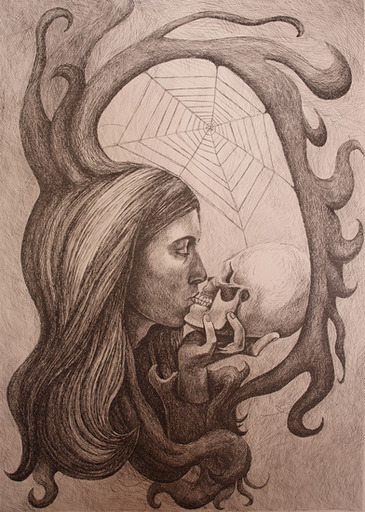 Scroll down for english CV
Mijanou ter Braak is geboren in Geldrop, Nederlond in 1969.
Ze maakt grote pen en inkt tekeningen, donker en passioneel. Haar schilderijen zijn soms erg uitbundig in kleuren en soms net als haar pen en inkt tekeningen. Haar thema in haar persoonlijke werk is de maatschappij en de mensen in deze maatschappij...dark & Grim...Aan de andere kant schildert of tekent ze net zo graag een mooi landschap, een mooie vrouw, een mooi paard ;+)
Toen ze 14 was besloot ze haar leven te wijden aan haar passie voor schilderen en tekenen.
Op 17de is ze in Londen gaan wonen. Daar werd ze muzikant. Ze was straatmuzikant in Londen tot 1988, toen verhuisde ze naar Amsterdam.
In 1995 ging ze terug naar Londen waar ze portret kunstenaar werd. Ze heeft er honderden portretten verkocht over de jaren.
Ze volgde er verschillende cursussen modeltekenen om haar techniek te perfectioneren. Ook heeft ze er geexperimenteerd met grafische technieken.
Sindsdien heeft ze verschillende exposities gehad in Engeland (London, Hastings, Turnbridge Wells) en België (Antwerpen). Ook was ze lid van de New Riviera Group, een lokale kunstvereniging in Hastings.
In 2001 verhuisde ze naar België maar 1 jaar later is ze in Nederland gaan wonen.
Ze heeft in die periode 3 muziek CD's opgenomen onder de artiesten naam Anna Brag en meerder concerten gegeven.
Ook heeft ze in die periode verschillende exposities gehad in Nederland en Belgie (Aardenburg, Oostburg, Beilen, Groede, Antwerpen, Deinze).
Mijanou ter Braak was born in Geldrop on the 9th of may 1969.
She makes large pen & ink drawings, dark and passionate.Sometimes her paintings are very colourfull and sometimes they are just like her pen & ink drawings.The main theme in her personal work is the society we live in and the people that live in that society...Dark & grim....On the other hand she enjoys drawing a nice landscape, a beautifull potrait or animal ;+)
At the age of 14 she decided to make art her life.
She went to London in 1986 and there she became a musician.
Playing the streets of London until 1988, when she moved to Amsterdam.

In 1995 she moved back to London were she became a Portrait Artist. She did hundreds of portaits in this period.
She followed several life drawing courses to perfectionise her technical skills. She did also experiment with grapical techniques in this period. Since then she had exhibitions in England (London, Hastings, Turnbridge Wells, Battle) and Belgium (Antwerp). She also was a member of The New Riviera Art Group when she was living in St leonards by Sea (1999-2001)

In 2001 she moved to Belgium and in 2002 to Holland.
She did record 3 music CD's under the artist name Anna Brag and did many live concerts.
Also did she have several exhibitions in Holland (Aardenburg, Oostburg, Groede, Beilen) and belgiums (Antwerp, Deinze) since moving there.